Electrical Contracting
Written by Marya LaRoche on March 24, 2014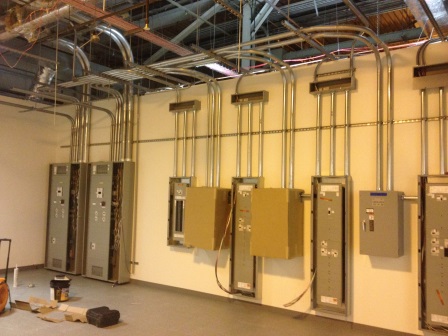 We are a full-service electrical contractor for the design, installation, and maintenance of your electrical systems, continually providing quality service to residential and commercial clients in the Berkshires and Central Massachusetts. Our licensed contractors and expert technicians are dedicated to working with you whether it's a renovation, service upgrade, new addition, or complete electrical installation. We guarantee reliability, convenience, and service.
We are fully licensed and insured.
Electrical  Systems Installation
Bathroom & Kitchen Remodeling
Generators
New construction, renovations, upgrades
Television and phone jacks
Lighting
Since we also specialize in low voltage installations–from fire alarms, lighting, and data wiring to back-up generators, power wiring, and automated controls, we can cover all things electrical for your projects.
After the completion of each job, we test all connections, ensuring electrical compatibility and safety of the components so your space is completely compliant.
Residential Installations
Main Electrical Services
Sub-Panels for Distribution
Back-up Power Generators
Receptacles & Switches
120 Volt Smoke Detectors
Control Wiring for HVAC
Power to Appliances
Data and Telephone Wiring
Ceiling Fans
Interior and Exterior Lighting
Commercial Installations
Main Electrical Services
Sub-Panels for Distribution
Surge Suppressors
Back-up Power Generators
Receptacles & Switches
Data & Telephone Wiring
Interior & Exterior Lighting
Fire Alarm Systems
Control Wiring for HVAC
Security Systems
Intercoms/Door Entry
Nurse Call Systems
Industrial Installations
Power Wiring For Machines
New Assembly Line Additions
Conveyor Systems
Wiring For Control Systems
Interior & Exterior Lighting
Power Correction Equipment
Telephone & Data Wiring
See our portfolio for electrical contracting here
Posted Under: