Security & Monitoring
Written by Marya LaRoche on March 7, 2014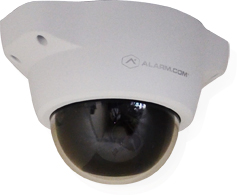 It's your home and your business, we can help you protect it with security camera installations, monitoring and motion sensors and more.
First, we meet with you to assess your specific home or business, your needs and desires, to design the complete system that will give you piece of mind and to help you protect the value of your home or business. After installation, we continue our commitment to service with our support and monitoring services.
Contact Us or call 413-776-0354
Smoke, Fire, Carbon Monoxide Monitoring with Alerts
Safeguard against dangers such as smoke, fire and carbon monoxide, and even water, humidity, temperature (guard against frozen pipes in the Northeast winter)  and get alerts when home or away.
Cameras & Sensors
We install cameras, driveway and other motion sensors to set up a view of your home or office. Our experienced team integrate these into the comprehensive video monitoring and response system to suit your needs.
Lock Controls
Know who is coming and going – from contractors to kids – with door locks and keypad controls.

Security & Monitoring Services
Alarm & Monitoring
Fire & Smoke
Carbon Monoxide
Water & Humidity
Temperature
Cameras
Video Monitoring
Motion Detectors & Lighting
Driveway Sensors
Cameras
Door Locks
Code Entry & Keypads
Posted Under: